A few weeks ago I got an opportunity to connect with one of the founders of a really awesome, fast-growing supplement brand called Mister Jones Health.
They have a truly game-changing product line. And it should come as no surprise that they're doing an awesome job with their email marketing as well.
The other day, I got a "prelaunch" email for their upcoming campaign… and I thought it was exceptional.
So…
I decided to break it down here. It's an awesome example of conversational, personal writing that customers LOVE.
I won't keep nattering on, I'm ready to sink my teeth into this one.
So…
Without further ado…
Let's take a look at this week's Email of the Week!
This is the 50th installment of my Email of the Week series. (Catch up on previous episodes here.)
And in case you're new around here, here's how this all works…
The Rules For Email Of The Week
Each week, I go out into the wild to find a super-effective e-commerce marketing email… and I break down what made it work. My goal is for you to tune in each week, so I can teach you strategies and best practices YOU can use to make your own emails better.
I find these emails in my inbox, but I also accept suggestions from readers who have a remarkable email they'd like to share.
If you recently received an email that was so awesome it made your jaw drop, I wanna see it.
Forward it to me (chris at theemailcopywriter dot com) with a brief message about what you liked about it. If I choose to do a breakdown of the email you sent, I'll give you a shout out and link to your site.
The only rule is… you can't pick yourself.
Now then, without further ado, let's check out the Email of the Week!
I bet you're thinking of that Counting Crows song right about now.
One of the things that separate good ecom emails from GREAT ones are the amount of brand personality you inject into your copy.
There are too many boring brands.
Too many brands that sound like everyone else.
Mister Jones Is NOT one of those brands.
The email we're going to look at today made you feel like you were reading an email from a friend.
Let's dive in…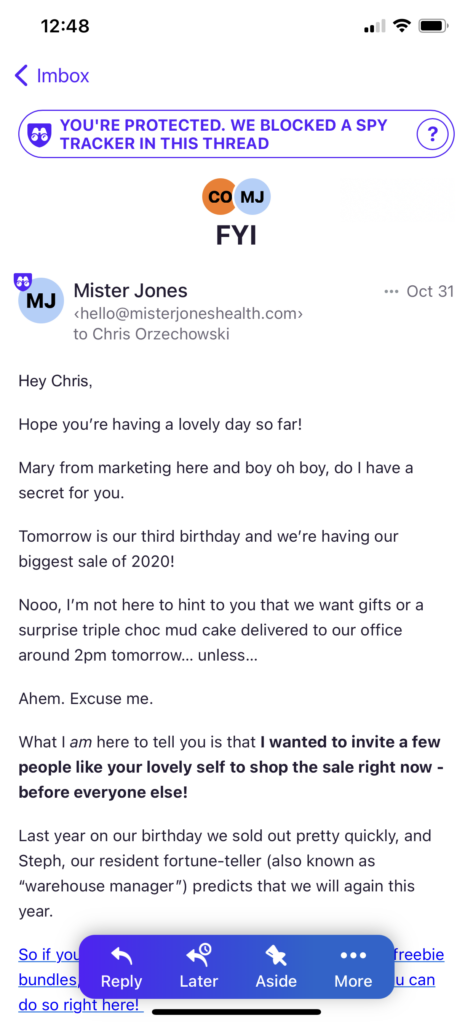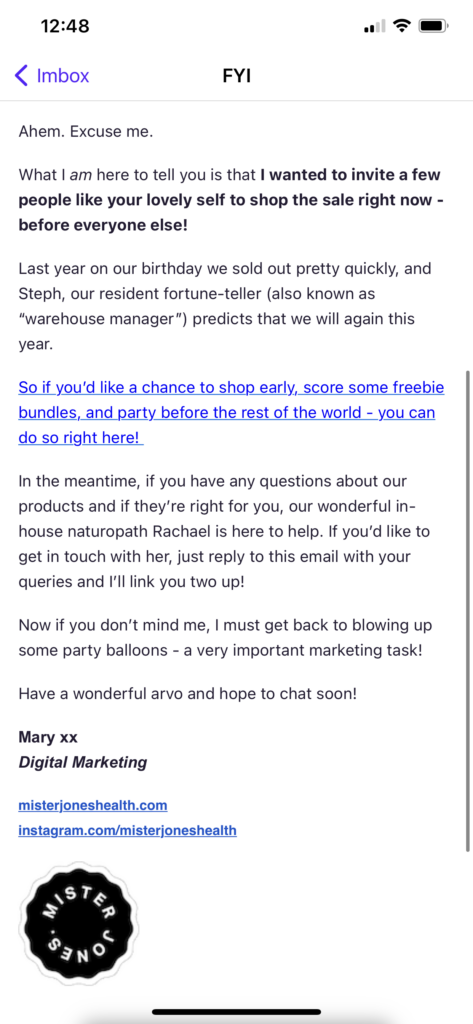 Let me list out all the things I love about this email.
FIRST
The subject line: FYI
Incredible.
So short, only 3 letters long.
But it BEGS to be opened.
How do you ignore that?
SECOND
Look at the intro.
This is worded exactly as if Mary opened up a new email draft in Gmail and typed this out to a single person. It passes the 'sniff test' in terms of looking like an email… rather than telegraphing a pitch.
This is a well-done intro.
THIRD
This email really shines starting at the fourth paragraph.
Look at the specific details: triple choc mud cake, 2pm… this is what makes your emails fun and engaging.
One of the parts of your internal email writing process should be going back through your copy and looking for places when you can make the generic details more specific.
This is one of the core components of visual persuasion: writing words that form powerful, memorable images in your reader's brain.
FOURTH
I don't believe they're doing a click-tag promo, like how I teach in my Laidback Launch framework that I wrote about in my Make It Rain Monthly newsletter.
But what they appear to be doing here is letting in a specific segment of their list in early. This is smart, segmenting via engagement.
Rewarding people who actually read and engage with your stuff… before rolling out your promo to the rest of your list.
FIFTH
Look at that next paragraph: Steph, our resident fortune-teller (also known as "warehouse manager") predicts we'll sell out.
This Is so much more fun and powerful than just saying "supplies are running low and we will sell out."
Do you see the difference between those two lines of copy.
They're both saying the same thing. Except the Mister Jones version loops in a character, hints at a story, and builds narrative.
This is one of the techniques we like to use in ALL of the automated sequences we create at my agency, Orzy Media.
It's humanizing.
You feel a bond with the characters in the email.
And it makes you feel familiar with the people behind the scenes… which makes you feel more comfortable buying from them.
SIXTH
The hyperlink is laced with a 1-2-3 combo of benefits.
That's a powerful way to write a call to action.
SEVENTH
The following paragraph invites you to reply back and speak to Rachael, their in-house naturopath.
Now, this is just damn smart.
If you've read my Pay Yourself Book, I've talked about how it's always more important to make your emails about OUTCOMES, rather than PRODUCTS themselves.
Why?
Well…
The only reason why someone buys one of your products is to achieve an outcome/result in their life.
Your products will change over time. Formulas will improve.
But the DESIRES your customers have probably won't change much.
By speaking with Rachael, you get a chance to not only learn more about your customers… you also get them to connect then with the EXACT product that'll help them achieve the outcomes they want in their lives.
Brilliant.
Plus…
It's another great example of humanizing your brand by introducing your team members.
EIGHT
Finally…
Look at the sign off.
"Ok, I'm gonna get back to blowing up balloons…"
Such a nice, personal touch.
A+ stuff.
Keep up the good work Mister Jones team!
Big Takeaways from Mister Jones
Turn your email into a story.
Write from one person, to one person.
Swap general details for specific details.
Punch up your CTAs with multiple benefits.
Make your emails about outcomes, not products.
Segment based on engagement.
Turn your promotions into a celebration.
Visual language makes your content sticky.
Plain text > pretty posters.
Have fun with your copy.
What To Do Now
Subscribe to my email list so you can get ALL of the Emails of the Week delivered straight to your inbox, automatically.
Leave a comment for me below and let me know what you liked about this email.
Buy some supplements from Mister Jones. They have awesome formulas that have survived the most rigorous testing processes in the world. And they've got a list of success stories a mile long.