Earlier this year I started my email marketing agency, Orzy Media.
From the outset, I knew I'd need a tech mastermind. Someone who could solve all the 'non-word' problems that come up when you're working with clients who have a number of softwares working together.
My buddy Patrick Kenney introduced me to a guy named Matt Spangler.
Matt was the tech god I was looking for.
As I got to know Matt, I learned that in addition to being an awesome person and a genius marketing ops guy… he also runs a charity down in Honduras called Legacy of Hope. They have an arm of the organization called Legacy of Hope Coffee… where they sell amazing coffee direct-to-consumer and donate proceeds to the orphans in their program.
One of the first projects we did at the agency was set them up with a whole suite of automated email flows.
Matt watched what we did… and saw how we wrote.
And this Black Friday, he decided to try his hand at whipping up some of his own emails to send to their list.
He forwarded them to me, to see what I thought.
I flabbergasted at what I saw.
They were actually really good.
They had salesmanship.
They had humor.
They were chock full of personality.
PLUS…
They used some really solid BFCM strategy that I thought was useful for everyone to see.
I knew I had to break them down.
And that's what we're going to look at this week.
So…
Without further ado…
Let's take a look at this week's Email of the Week!
This is the 50th installment of my Email of the Week series. (Catch up on previous episodes here.)
And in case you're new around here, here's how this all works…
The Rules For Email Of The Week
Each week, I go out into the wild to find a super-effective e-commerce marketing email… and I break down what made it work. My goal is for you to tune in each week, so I can teach you strategies and best practices YOU can use to make your own emails better.
I find these emails in my inbox, but I also accept suggestions from readers who have a remarkable email they'd like to share.
If you recently received an email that was so awesome it made your jaw drop, I wanna see it.
Forward it to me (chris at theemailcopywriter dot com) with a brief message about what you liked about it. If I choose to do a breakdown of the email you sent, I'll give you a shout out and link to your site.
The only rule is… you can't pick yourself.
Now then, let's check out the Email of the Week!
Coffee… For A Good Cause
What we're about to take a look at is a three-email sequence Matt wrote to sell coffee and raise money for Legacy of Hope.
These emails really do have it all.
I'd natter on with a big preamble… but I think it'd be more instructive for us to just sink our teeth into these bad boys.
Here's the first one…
Subject line: Coming soon to a doorstep near you…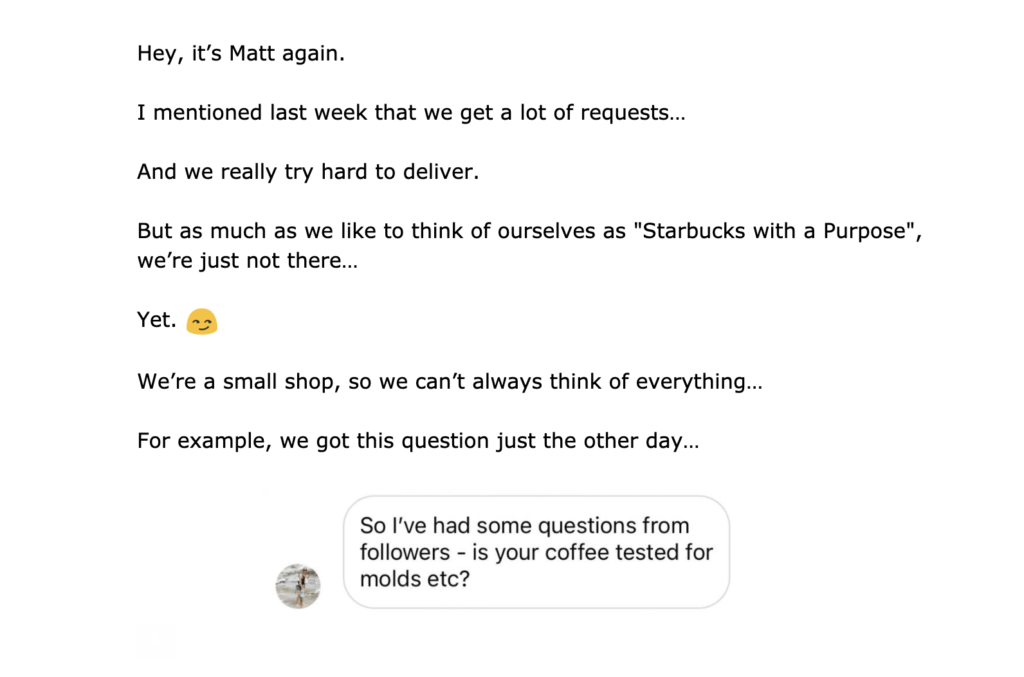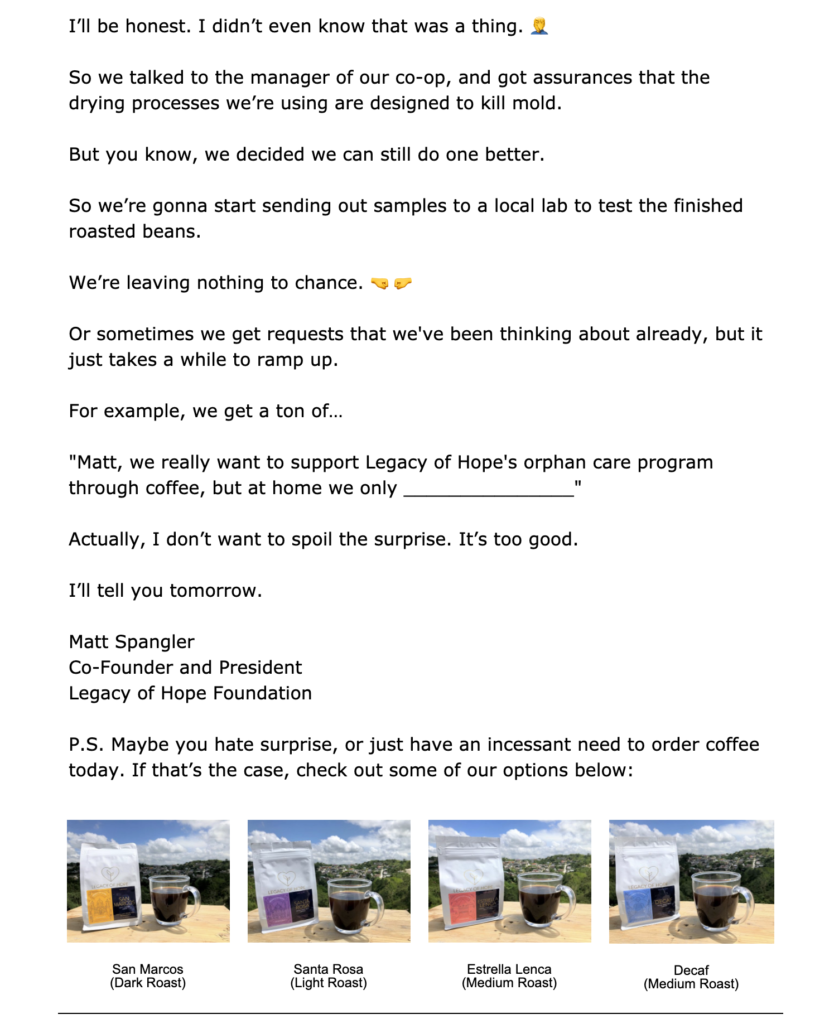 One of the things I love about this first email is the 'feel' of it.
Even if you've never met Matt, you feel like you know him. The tone is comfortable and conversational.
It feels like an email from a friend.
As you progress through, you'll notice the screenshot image of the question Matt got about their coffee.
I love how he included the screenshot here and used it as the jumping-off point for this email.
He took what some people might perceive to be a flaw and turned it into a selling point. That's skillful, in my opinion.
One last thing in this email (there's others good stuff here, but we've got two more emails to look at so I gotta move on)… look at that open loop at the end of the body. Totally hooks you in for the next email.
Solid stuff, really great.
Let's take a look at that next email in this promo sequence…
Subject line: Drumroll please…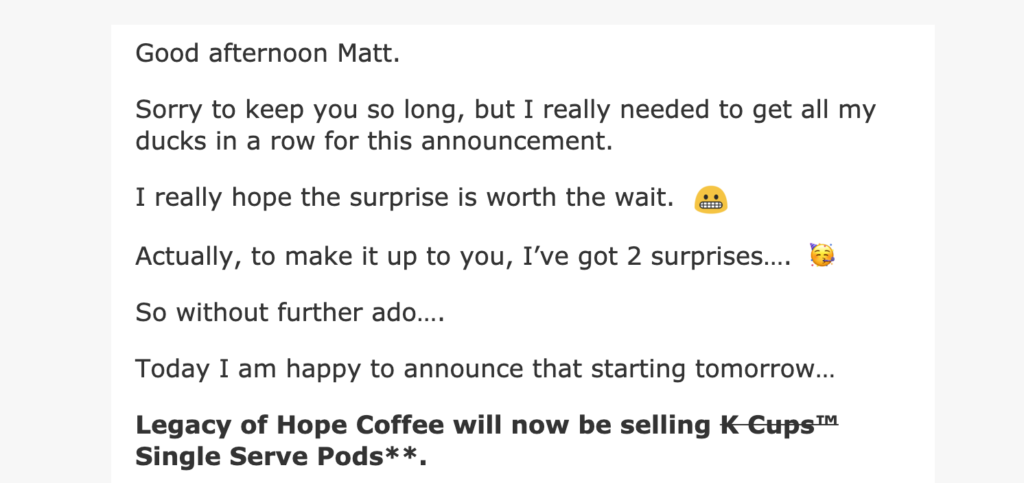 Again, it starts off with that friendly, casual tone.
Matt sinks the hook a little deeper by dangling two big surprises.
And then he makes the first announcement – a new product.
Now, before we get to the next part, you should know that this next bit made me almost spit out my coffee.
Matt's got an awesome sense of humor…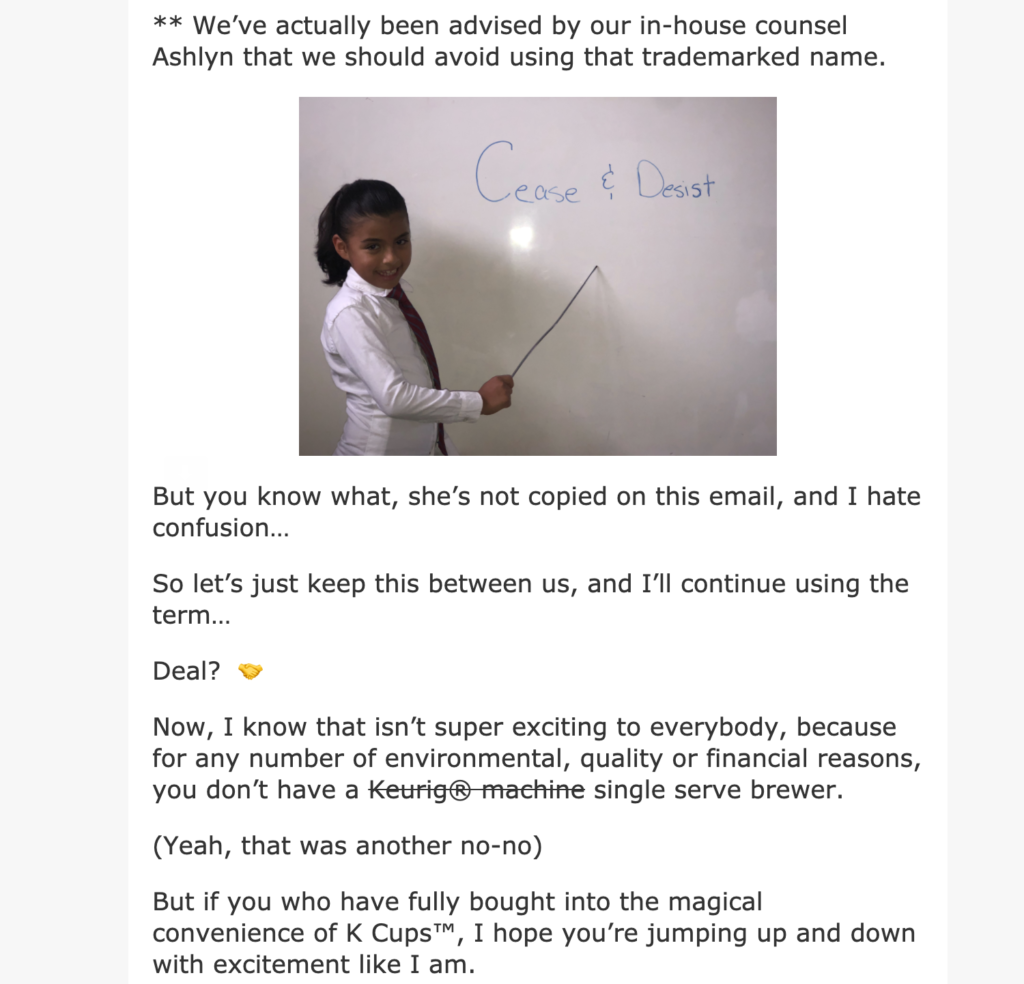 The "Cease & Desist" on the whiteboard made me laugh out loud.
So funny.
That's the thing…
Marketing doesn't have to be cold and boring.
Include your family members.
Make jokes.
Have fun.
Your readers will thank you for not being yet another boring brand in their inbox.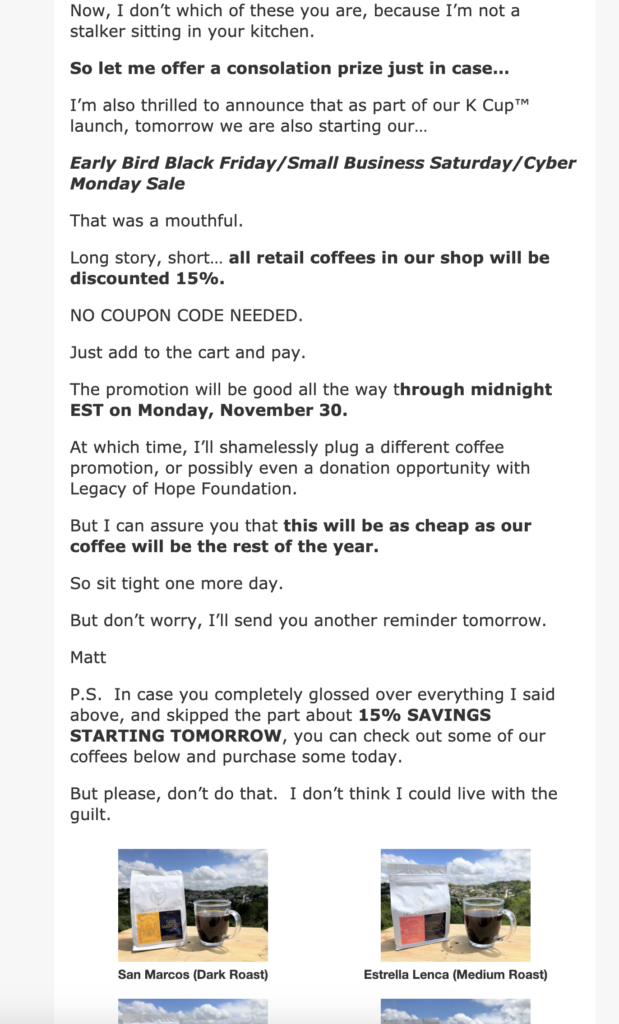 This email had a POWERFUL offer.
And, btw…
I've had their coffee.
It really is good.
I'm a coffee guy.
I'm not married to one brand and refuse to switch, like some people.
Legacy of Hope Coffee gets the Chris Orzechowski seal of approval.
Just thought I'd add that in.
I love the PS in this email as well.
It's self-aware… kind of poking fun at the whole 'marketing' part of their marketing.
Really well done.
Let's take a look at the next email (and last one I'll break down for today)…
Subject line: It's Friday!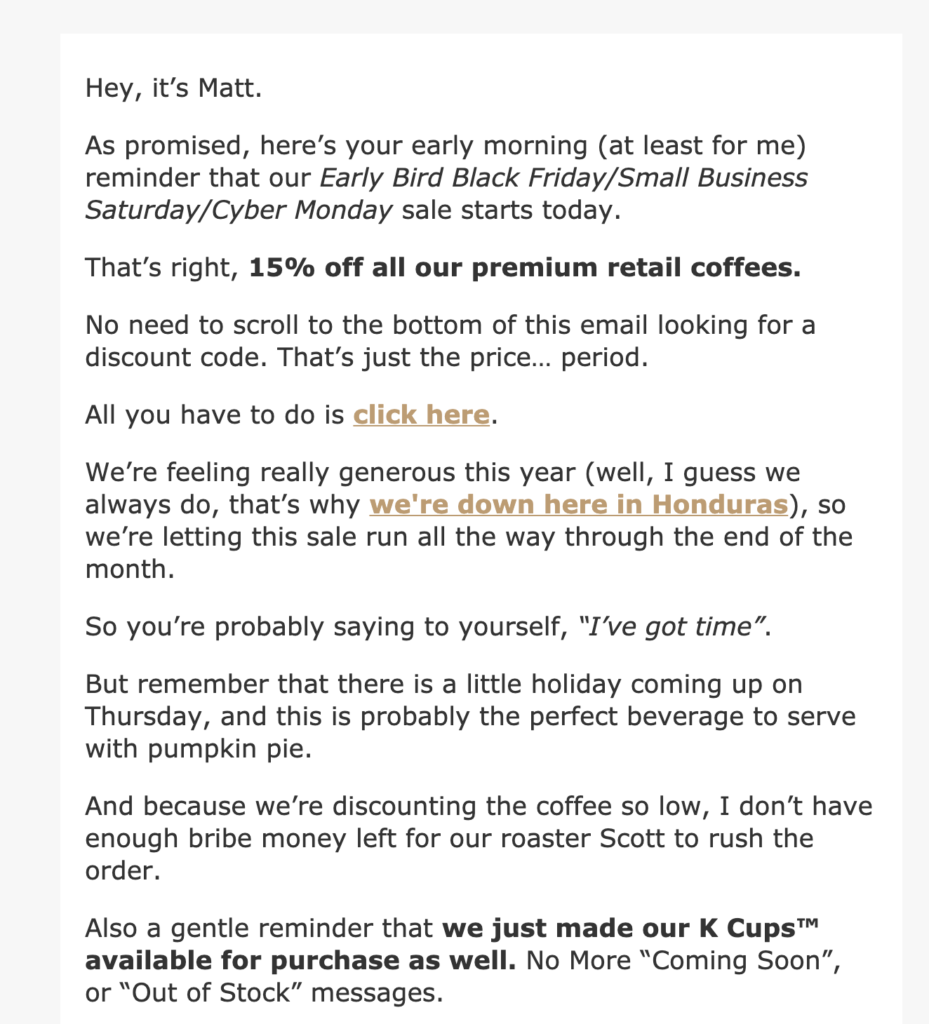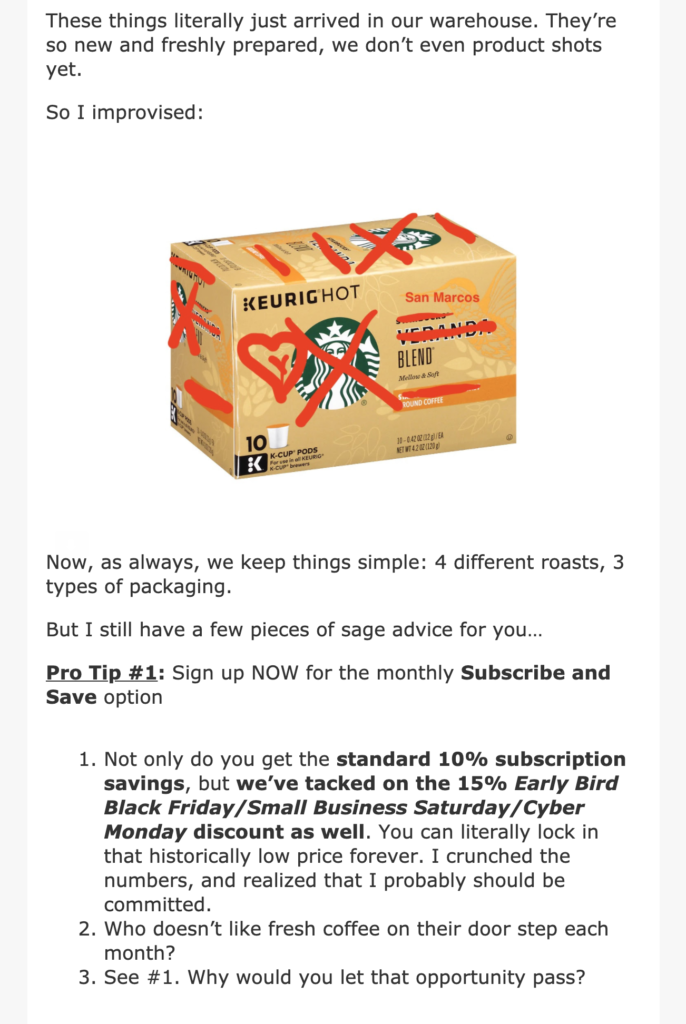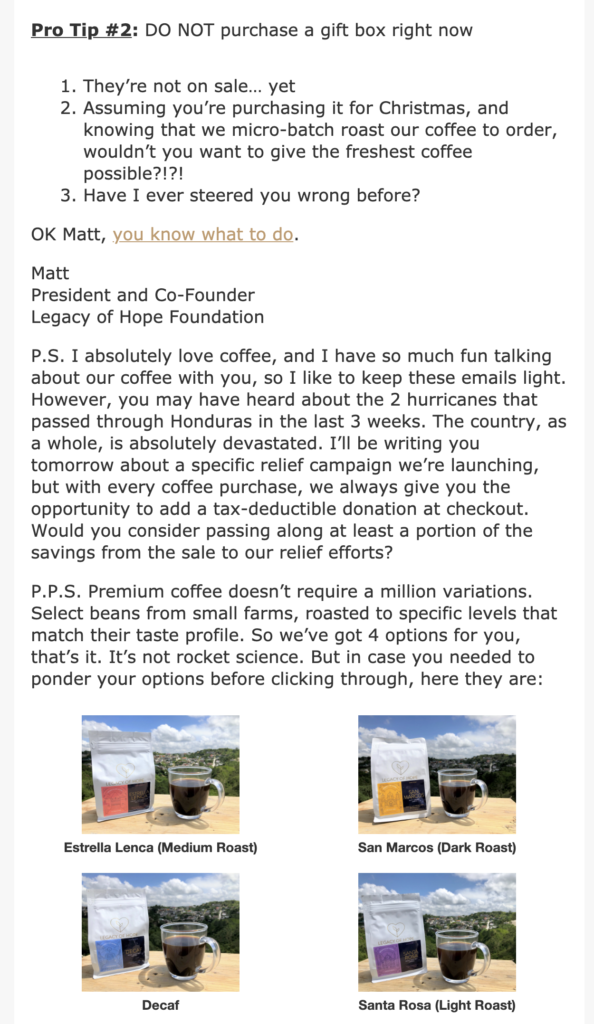 I laughed out loud when I saw Matt's photoshop job on that Kuerig box.
Rolling.
I mean…
How do you not fall in love with the Legacy of Hope brand after reading these emails? You can't.
I think it's impossible.
Here's another thing Matt does really well with these emails…
He loops in characters.
He looped in his daughter in the second email. He looped in Scott in this email.
This technique humanizes your brand… and builds more of that know, like, and trust.
Great stuff.
Of course, in the PS of this one Matt switches tone a bit (as he should).
What I love about this (and the other emails) is he doesn't 'sell from his heels.'
People get timid when they're selling. And when it comes to asking for a donation… some people are terrified of making that ask.
Here's the thing though…
For an organization like this, or really any non-profit, the most important thing you can do is get good at selling.
Every dollar that flows into this organization changes lives.
How could you ever be scared of making the ask when you know the ripple effects it's going to have for the lives it changes?
If you know someone who runs a non-profit… make sure you send them this breakdown.
Matt is doing an incredible job at Legacy of Hope.
And if you're looking to do some good this year… and give back to an organization that's doing great work… and if you're looking to get some awesome coffee… AND if you liked Matt's emails… then get some coffee from Legacy of Hope Coffee right now.
Great job Matt and the entire Legacy of Hope team.
Big Takeaways from Legacy of Hope Coffee
Make your marketing fun.
Use pictures to support your words, not the other way around.
Loop in characters, it humanizes your brand.
Always look for ways to build know, like, and trust.
Use open loops to dangle carrots.
When it's time to sell… you SELL.
Keep your tone personal and conversational.
Photoshop can be your greatest ally.
Screenshots are powerful.
Write from the heart, always.
What To Do Now
Subscribe to my email list so you can get ALL of the Emails of the Week delivered straight to your inbox, automatically.
Leave a comment for me below and let me know what you liked about this email.
Get some coffee from Legacy of Hope Coffee. It's actually really good coffee, I love it. And it's for a good cause.